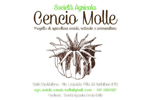 SOCIETÀ AGRICOLA CENCIO MOLLE
Ragione Sociale

SOCIETÀ AGRICOLA CENCIO MOLLE

Sede

Via Pilla, 54 - 46010, Curtatone (MN)

Telefono / Cellulare

349 0800387

Referente

Luigi Supino, Serena Speranzini
Who we are
Cencio molle is a farming company which aims at social and occupational integration od disadvantaged people. It cultivates vegetables in the most natural way possible, using so-called useful insects and wisely managing water resources. The main philosophy here is permaculture, a synthesis of ecology, geography, anthropology, sociology and planning.
 Activities
Production and sale of seasonal fruits and vegetables farmed without chemical pesticides and fertilyzers, experimenting a true synergy between flowers, vegetables, aromatic plants and natural soil enrichment.
Product transformation into jams, sauces and marinated vegetables.