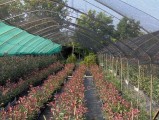 COOPERATIVA SOCIALE AGRICOLA PETALI DI SOLIDARIETÀ
Ragione Sociale

COOPERATIVA SOCIALE AGRICOLA PETALI DI SOLIDARIETÀ

Sede

Via M. d'Oggiono, 2 - 22036, Erba (CO)

Telefono / Cellulare

031 610426 - 333 1721504

Referente

Alessandro Castelnuovo
Who we are
The social cooperative farm Petali di Solidarietà is part of the bigger cooperative Tetto Fraterno and is located in Erba, near Como, in Lombardy.
It manages a greenhouse in Valbrona and provides counselling and help for active job research to male adults in fragile situations.
The social cooperative Tetto Fraterno was founded in 1989 by don Bassano Pirovano and aims at managing a rehab community structure for men with a drug addiction or alcoholic past. It hosts a maximum of 24 men, all coming from homeless, prison or, more generally, problematic situations.
In 2011 the structure opened to new kinds of poverty, such as men in difficulty and separated fathers. Two residential structures are now available, along with an educator coordinating guests social and working relations.
 Activities
Cultivation and commercialisation of ornamental outdoor plants, which funds the re-educational and occupational project aimed at the learning of notions and abilities in the field of green housing and nursering.