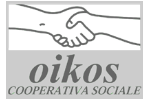 COOPERATIVA SOCIALE OIKOS
Ragione Sociale

COOPERATIVA SOCIALE OIKOS

Sede

Via Ronco Basso, 13 - 24018, Villa d'Almè (BG)

Telefono / Cellulare

035 635029, 392 9506493

Referente

Barabani Ferruccio
Who we are
The Oikos cooperative was established in 2001 within the Consorzio La Cascina: through the effort and the pleasure of farming it operates for the employment of disabled adults. The cooperative area is located in the north-west section of the Parco Regionale dei Colli di Bergamo (Regional Hills of Bergamo Park). The economical resources of the company are divided between the crops and the woods. The cultivated areas include a specialised vineyard producing grapes that are meant for the production of wine with organic methods.
Oikos is a social cooperative that produces and commercialises vegetables and particular types of wine, the "Valcalepio DOC Bio" and "Merlot IGT Bio della Bergamasca", certified through BIOAGRICERT, through significant experiences of socio-occupational inclusion.
It's also possible to buy the cooperative's products at the store located inside the cooperative itself.
 Activities
In order to offer wider occupational opportunities, the original viticulture activity was integrated with the green areas creation and maintenance services in both public and private parks and gardens, along with a pathways maintenance service in both rural and forest environments, also implemented with the tree-climbing technique.
Oikos, as an educational farm certified by the regional authorities, organises courses on environmental and rural education for schools and different groups and is also going to become an educational farm on the use of cultivable areas for kids with physical disabilities.
It collaborates with other local associations and companies to find new possible synergies, e.g. by managing areas of public interest, activating awareness-raising courses on social and organic agriculture and by planning joint opportunities, with local training agencies, for farmers and disabled people, such as internships and part-time educational/working paths.