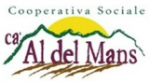 CA' AL DEL MANS COOPERATIVA SOCIALE
Ragione Sociale

CA' AL DEL MANS COOPERATIVA SOCIALE

Sede

via Dante Alighieri, 12 - 24017, Serina (BG)

Telefono / Cellulare

0345 66152

Referente

Mazzocchi Monica, Adriano Carrara
Who we are
In 1997, after a committed educational path on social issues, especially focused on youth disorders, a first cooperative was born, preparing the ground for an ambitious project based on three principles: social intervention, biological farming, hospitality and education.
In 2008, following an internal division process, the present "Cà Al del Mans" social cooperative was founded. This new cooperative, keeping biological farming as its main activity, keeps following the policies and objectives that were originally set.
Activities
Employment of fragile people for the rediscovery of a work rhythm closer to one's equilibrium, a rediscovery that fuels one's own personal well-being.
In order to reduce the distance between the consumption and production places, Cà Al del Mans has its own retail store and a local distribution network.
The cooperative has chosen to follow the Fair Trade principles and to collaborate with the Libera association to commercialise its bio products, thus contributing in its own way to the creation of a just economy and representing a consumers' choice respectful towards the cultures and traditions of the south of the world.
Cà Al del Mans also runs informative and educational activities through public meetings and the "Fattoria Didattica" (Educational Farm) project.
It also often works in collaboration with schools, formal and informal authorities and other companies and associations to promote student internships, employment, socio-educational projects and occupational therapies.