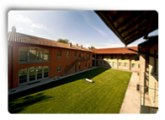 AZIENDA AGRICOLA LA FORESTINA
Ragione Sociale

AZIENDA AGRICOLA LA FORESTINA

Sede

Bosco di Riazzolo, 20080, Cisliano (MI)

Telefono / Cellulare

02 90389263, 380 1994068

Referente

Nicolò Reverdini
Who we are
La Forestina is a certified organic farm, founded in 1995, on the principle of multi-functionality, which means working within the farm on service activities connected to farming and breeding.
It is located in the Milan Parco Agricolo Sud park, an area with characteristics similar to those of a natural area (the millenia-old Riazzolo park) and that disposes of 16 cultivated hectares and 16 wood hectares managed by paying particular attention to their original features and to the re-establishment of their original biodiversity.
 Activities
Agrotourism is the farm's main actvity, but it also sells its own products: seasonal vegetables, honey and local beef breeds meat.
Being located within the Riazzolo park premises, La Forestina takes care of its maintenance as well as some naturalistic aspects such as the re-introduction of amphibious species at risk of extinction (Pelobates fuscus insubricus and the Lataste frog) and the maintenance of a settling-in station for nocturnal birds of prey.
The Punto Parco Cascina Forestina, on the other hand, aims at reconciling dialogue between urban and rural areas, through various educational activities that every year bring hundreds of kids to visit the farmstead and its surrounding nature – the wood, the vegetable gardens, the lawns, the animals, the fountains…).
For secondary school and universities other activities are designed: workshops, geographical and historical pathways and demonstrative activities (organic farming methinks and wood maintenance techniques), while with environmental and cultural associations international exchanges are organised – Scout camps and volunteering Legambiente camps – as well as meetings, also on socio-agricultural themes.