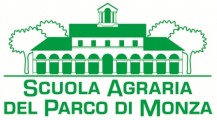 SCUOLA AGRARIA DEL PARCO DI MONZA
Ragione Sociale

SCUOLA AGRARIA DEL PARCO DI MONZA

Sede

Viale Cavriga, 3 - 20052, Monza (MB)

Telefono / Cellulare

039 2302979, 039 5161207, 3487751258

Referente

Pio Rossi, Schiaffelli Carla, Cornari
Who we are
The agronomical school Scuola Agrarian del Parco di Monza is a point of references as a Professional Training Centre, both on a regional and on a wider national scale, for the specific training and refresh courses that it offers, aimed at green areas technicians and operators, gardeners, tree and forest specialists, nurseries, florists and green areas designers. The School's main thematic areas are: gardening, green areas design, tree plants cultivation and tree climbing, multifunctional agriculture, vegetable garden therapies and flower compositions.
To facilitate student attendance in the south of Italy, the School also organises professional courses in Rome since 2013. The website offers a database, which is a virtual meeting point between job offers and job search, with particular attention to the ornamental plants and green sector.
 Activities
The School produces various vegetables, fruits and honey, commercialised through local markets. The School is also an educational farm for food and environmental education, that organises summer green weeks for kids and teenagers and offers a wide choice of amateur courses for gardening enthusiasts.
The School is located in the heart of Monza's park, in the Cascina Frutteto which is one of the most notable examples of the rural architecture in the Lombardy region.