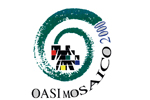 COOPERATIVA SOCIALE OASI MOSAICO
Ragione Sociale

COOPERATIVA SOCIALE OASI MOSAICO

Sede

Via XI Settembre, 1 - 22070 , Guanzate (CO)

Telefono / Cellulare

031 899757 - 320 3884997

Referente

Cristian Cesareo
Who we are
It is a type B social cooperative and farm. Established in 1999, its purpose is to offer working opportunities, and continuity in the self-sufficiency paths, to disabled people.
It immediately chose the natural and agricultural environment as a priviledged setting for its activities.
Nowadays, Oasi Mosaico is, first and foremost, a place of experiences and reflections, which are projected towards its mission: social and environmental sustainability and integration of diversity, both within the company and the community. Which business strategies should be applied in this direction?
 Activities
The cooperative works in the following areas:
 production of organic wild berries, fruits and vegetables. Artisanal transformation of fresh products into jams, sauces, juices, etc., also on behalf of third parties;
green areas maintenance;
cemetery services;
public areas cleaning;
other manufacturing services on behalf of third parties: assembly work, packing, quality controls, etc.