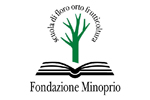 FONDAZIONE MINOPRIO
Ragione Sociale

FONDAZIONE MINOPRIO

Sede

Viale Raimondi, 51 - 22070, Vertemate con Minoprio (CO)

Telefono / Cellulare

031 900224 (interno 217), 345 6049268

Referente

Giovanni Rossoni
Who we are
The Fondazione Minoprio is essentially a Training and Education Centre and a Work Services Centre that manages an historical, agricultural and natural park, located at 25km from Milan and at 10km from Como, property of the Lombardy region.
The Foundation area, apart from the villa and the park, also features:
an educational centre, including the main building with classrooms, workshops, the library, reading and recreational rooms and other buildings like the students residence (as in boarding schools), the canteen, the gym and the sport fields;
a farming centre with all production facilities, including greenhouses, tunnels, shadowy gardens, nurseries, vegetable gardens, a 10 hectares orchard with both new and traditional pomaceae varieties, dried fruits, persimmons and other fruits.
It is precisely at the farming centre that social agriculture activities are implemented. They target underage students of professional institutions, young and adult subjects identified by the social and health services and jobless adults.
 Activities
The activities involving people who have been included in specific working projects mainly revolve around horticulture, greenhouse and nursery protected cultivations, gardening and the maintenance of ornamental and ambience plants.