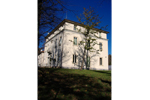 COOPERATIVA SOCIALE IL VOLO ONLUS
Ragione Sociale

COOPERATIVA SOCIALE IL VOLO ONLUS

Sede

Via Provinciale, 42 - 23876, Monticello Brianza (LC)

Telefono / Cellulare

039 9275575
Who we are
The type A cooperative Il Volo Onlus was founded in 2000 with the initiative of a group of mental health care professionals and volunteers. The specific purpose of the Il Volo consists in creating structures and services dealing with the health care and social reintegration of young adults with serious psychic disorders, related primarily to the clinical area of personality disorders, with special attention to borderline cases.
Its main activity is a therapeutical rehab community at the Villa Ratti, which hosts 20 patients aged 18 to 35. Here, everyone has a personalised project studied jointly with families and local social services by the the community team. The community, also aiming at occupational services, founded the type B social cooperative Volando Service, which manages the Trattoria del Volo restaurant in Casatenovo where community guests work in turns.
In this occupational perspective, the vegetable garden work was extended as well as the green areas management section: Villa Ratti is indeed surrounded by a centuries-old, 5000mq park that includes green houses and vegetable gardens, a henhouse and a garden maintenance garage. The horticulture activity closes the self-sufficiency cercle: products are used by the community, in the restaurant and are partly sold. Community guests are guided in the horticultural activity by a passionate educator-social worker continuously following agriculture educational courses at the agronomic school in Monza. When some of the young patients shows skills and interest, working opportunities are immediately created along with agreements with the local job centre in order for the experience to become a permanent job.
 Activities
Among future projects, the cooperative plans transforming fruit and vegetables, manufacturing wood for garden ornaments and furniture, developing an educational farm and a green maintenance service with the tree-climbing technique.