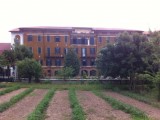 HORTUS ASSOCIAZIONE DI VOLONTARIATO
Ragione Sociale

HORTUS ASSOCIAZIONE DI VOLONTARIATO

Sede

Strada del Dosso del Corso, 16 - 46100, Mantova

Telefono / Cellulare

366 2405620

Referente

Marco Pirovano, Sara Nicolini
Who we are
Hortus is a volunteering association founded with the will to help women in difficult situations, pointed out by the social services network whose leader is the Abramo association, who works closely with the Caritas section in Mantua.
Hortus is a social agriculture project that generates sustainable processes of development and employment, giving value to the specific characteristics of the Mantua landscape and soil and more specifically, of its fruits and vegetables products. Small areas to cultivate, collaborations with other producers, attention to quality productions, transformation of products, multi-functionality and social relationships are the pillars at the core of the association's action.
 Activities
Along with seasonal fruits and vegetables products, in winter the women working for Hortus create special and multi-coloured candles with unused, melted wax from churches, mixing it with the leaves and perfumes of the vegetable garden. Candles are being promoted and sold by some local stores that provided dedicated spaces on their shelves.