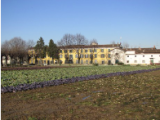 GASPARINA DI SOPRA COOPERATIVA SOCIALE
Ragione Sociale

GASPARINA DI SOPRA COOPERATIVA SOCIALE

Sede

Via Dante Alighieri 190/200 - 24058, Romano di Lombardia (BG)

Telefono / Cellulare

0363 901274, 348 6414145
Who we are
La Gasparina di Sopra is a type A and B social cooperative that runs educational and therapeutical services for its residential community aimed at rehabilitating and re-integrating drug addicted people though residential operational units (Therapeutical Communities), as well as occupational integration projects in favour of disadvantaged patients.
From a simple and familiar occupational therapy unit, it became a Social Cooperative that, in the last few years, increased and potentiated its Offer Units, officially recognised by the Lombardy Region authorities, providing different responses to the different emerging needs in the field of drug addiction.
The Agricultura project, created thanks to a Cariplo Foundation fund, aims at creating employment opportunities in the farming sector for the community's guests.
 Activities
Production, planning, distribution and selling of fruits and vegetables (tomatoes, courgettes, fennels, leeks, peppers, aubergines, cauliflowers, lettuce, broccoli, melons, kiwis, persimmons, etc.) produced with guests involvement and participation.