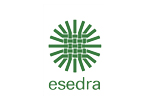 ESEDRA SOCIETÀ COOPERATIVA SOCIALE
Ragione Sociale

ESEDRA SOCIETÀ COOPERATIVA SOCIALE

Sede

Via Tagliamento, 7 - 22063, Cantù (CO)

Telefono / Cellulare

031 733368
Who we are
The type B social cooperative Esedra was established in 1994. In February 2010 it split into two divisions: Esedra energia – the energetical division, working on electricity and renewable energies –  and Esendra ambiente – the environmental division, working on agriculture, green maintenance and forest services.
These two merged again in 2014, keeping each its own professional characteristics and working fields while increasing synergies between the various cooperative's actors, thus becoming Esedra Società Cooperativa Sociale.
 Activities
The applicational fields of the company's environmental section are the following:
arboriculture: Visual Tree Assessment, phytosanitary products, plants pruning and cutting down through aerial platforms or tree-climbing technique;
environmental requalification: requalification of urban and forest abandoned areas, requalification of the existing arboreal heritage, urban planting of local varieties;
public and private green areas management: lawn management plans, vertical plants management, irrigation systems planning, installation and testing, herbs and plants census;
planning, building and maintenance of public and private green areas;
planning and building of intensive and extensive hanging gardens;
planning and creation of collective vegetable gardens or full-field farming;
environmental engineering in river and mountain areas;
railways snow removing services.
More over, the cooperative also manages an eco-friendly hostel at the Cascina Respaù in Como and provides services in the field of intelligent building, electric, water and heating systems, installing and maintenance of photovoltaic systems and solar thermal panels, maintenance of bio-masses heaters and switchboards.