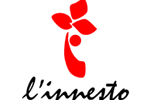 COOPERATIVA SOCIALE L'INNESTO O.N.L.U.S.
Ragione Sociale

COOPERATIVA SOCIALE L'INNESTO O.N.L.U.S.

Sede

Via Piave, 21 - 24060, Gaverina Terme (BG)

Telefono / Cellulare

035 810039, 340 6111950

Referente

Patelli Lodovico
Who we are
The social cooperative L'innesto was founded with the intention of creating working opportunities, into the territory and for the territory, especially for those people in the most difficult situations, giving value to the local culture and environment. An inspirational model for the community cooperatives, L'innesto aims at local development, working in the fields of social care, agriculture (green areas maintenance, horse breeding and farming), tourism and multi services, in synergy with the local community.
It stands as a territorial reference in the care and safeguard of the territory, research studies, the retrieval and diffusion of local culture, history and traditions.
In all its production activity, L'innesto employes disadvantaged people, cared for by a tutor which is closely integrated in the local community.
More specifically, all productions are based on local seeds which are being reproduced in order to transfer knowledge to the future generations on the traditional agricultural practices of the Cavallina Valley.
The cooperative, apart from greenhouses and farming field, also has at its disposal classrooms, faunistic observatories, a stuffing and leather manufacturing workshop, two restaurants and some highly naturalistic valuable sites.
 Activities
At present, the cooperative reaches its development goals thanks to contracts with both local public authorities of the Cavallina Valley and the Bergamo Province and with private companies.
In the field of social agriculture, more specifically, it provides:
green areas maintenance and naturalistic engineering
planning and management of naturalistic and environmental educational programmes offered on the managed sites.
Employment inclusion according to the Italian law 381/91, also offering opportunities for public-funded workers and other internships in the new "Centro Coltivazioni di Valle" (Valley Farming Centre) areas.