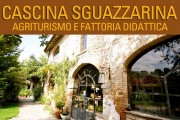 CASCINA SGUAZZARINA DI PEDRETTI GIACOMO MASSIMILIANO
Ragione Sociale

CASCINA SGUAZZARINA DI PEDRETTI GIACOMO MASSIMILIANO

Sede

Strada Baldese, 12/a - 46042, Castel Goffredo (MN)

Telefono / Cellulare

0376 781203

Referente

Pedretti Giacomo Massimiliano
Who we are
Cascina Sguazzarina is a 17 hectares farm that includes an educational and socail farm. Production is mainly oriented towards cereals and fodder. Fruits and vegetables are also produced and courtyard animals are also present.
 Activities
Cascina Sguazzarina is committed to drawing kids and teens closer to nature, to the local culture and traditions through manual, sensorial and motoric experiences that also develop scientific thought and reflection in kids and teens.
Accomodation and restauration services are also provided, as well as social and educational activities for families and day-time centres for elderly and disabled people.
The educational farm also is a useful tool when intervening in the fields of food, environmental and rurality education.
A sale point can also be found within the agrotourism farm premises, where Italian mostardas, salamis and jams are commercialised.