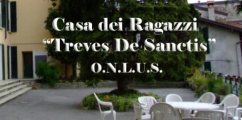 CASA DEI RAGAZZI ISTITUTO ASSISTENZA MINORI E ANZIANI ONLUS
Ragione Sociale

CASA DEI RAGAZZI ISTITUTO ASSISTENZA MINORI E ANZIANI ONLUS

Sede

Via Castello, 1 - 23887, Olgiate Molgora ( LC)

Telefono / Cellulare

039 9912071, 338 4121191

Referente

Francesco Valsecchi
Who we are
Since 2005, this health care, non-profit residence for people with disabilities offers health and assistance services and social-educational activities for individuals with physical, psychic and sensorial damages that limit their self-sufficiency. In 2014, the residence changed name from "Casa dei ragazzi Treves de Sanctis" to "Casa dei ragazzi Istituto Assistenza Minori ed Anziani Onlus". The residence si located in an old villa with cultivable property lands. In the 80s, the area was quite wide and productive. The farm was functional to the educational and training project for young disabled adults that regularly worked in the production system, followed by a trained farmer, educators and volunteers.
People were sure of the importance of agricultural works as a valid help and support to disabled guests, especially those with psychic disabilities. At first, agricultural and breeding productions were entirely consumpted by the community itself in a closed circle perspective: nothing was bought. This criteria was therapeutical, but also of vital importance for the disability group, and made farming and breeding a fundamental activity.
Nowadays the farm, still vital in its vegetable gardens, its green houses and breeding, is oriented towards educational purposes and production is not a closed circle anymore, even if it is partly consumed by the guests needs.
Today the farm stands as an attractive point of interest for other local social communities and services for activities such as therapeutical vegetable gardening and inclusionary horse riding.
Activities
Cultivation of ornamental plants. vegetables and corn, breeding of bovine livestock, goats, pork, chickens and rabbits, maintenance of green areas with social, therapeutical and recreational purposes for the Casa dei Ragazzi guests. It is also possible to practice horse riding for social integration purposes and gaming activities with donkeys.