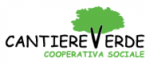 CANTIERE VERDE COOPERATIVA SOCIALE
Ragione Sociale

CANTIERE VERDE COOPERATIVA SOCIALE

Sede

Vicolo degli Alpini, 3 - 24020, Cene (BG)

Telefono / Cellulare

035 729322

Referente

Moreni Gualtiero
Who we are
The Cantiere Verde cooperative creates and takes care of both public and private parks and gardens, provides forest services and is devoted to bio agriculture with a specific project.
Along with environment respect and valorisation, another foremost objective is employment creation and social integration for disadvantaged people.
Workers' safety and social protection are the first preoccupation of technological investments: it's services are implemented by teams made up of adequately trained member workers and we constantly pay attention to professional qualification and continuous training.
Tree-climbing completes the cooperative's professional assets.
Activities
The Cantiere Verde cooperative:
plans, realises and takes care of both public and private parks and gardens, including security services and public green spaces management services.
provides forest services including pathways and natural areas maintenance
offers technical collaboration to environmental education projects
provides public management services when integrated in other social initiatives
produces certified biological farming products (vegetables and ancient, protected qualities of corn) and their transformation.
As far as the biological and social agriculture plan is concerned, vegetables are sold directly on the field, to selected agricultural local markets or to Ethic Purchase Groups (G.A.S. in the Italian acronym). The project is also taken care of by the GEDI non-profit association, based in the town of Gandino which is located north-west of Bergamo, Italy. The GEDI association works with handicapped people and is responsible for the home vegetables delivery service in some towns and villages in the Middle Seriana Valley, also located north-west of Bergamo, Italy.
Other important synergies are in place with the "Spinato di Gandino" and the "Rostrato Rosso di Rovetta" Corn Associations.
Cantiere Verde also offers educational courses to schools, families and communities based on its very own agricultural experience.