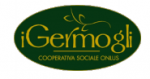 AZIENDA AGRICOLA I GERMOGLI
Ragione Sociale

AZIENDA AGRICOLA I GERMOGLI

Sede

Via Boccaccio, 13 - 20078, San Colombano al Lambro (MI)

Telefono / Cellulare

0371 89277, 338 9939744
Who we are
The social cooperative I Germogli produces wine, honey and vegetables on the hills of San Colombiano al Lambro. Within the respect of the soils' origins and vocation, it uses slow-impact farming techniques and aims at quality and biodiversity.
The I Germogli cooperative i salso a spin off of the wider Casa Famiglia Sherwood, which hosts underage kids and young adults in distress or in deviate conditions, offering new inclusion opportunities in social and working environments through community life, guuided and coordinated by educators, psychologists and volunteers.
 Activities
The cooperative commercialises its own wines and beehive products, both through its store – also featuring an online store – and through Ethical Purchasing Groups, where it is possible to explain the added social value of its products, apart from, of course, their quality.